Celebrating 10 Women in Wireless for Women's History Month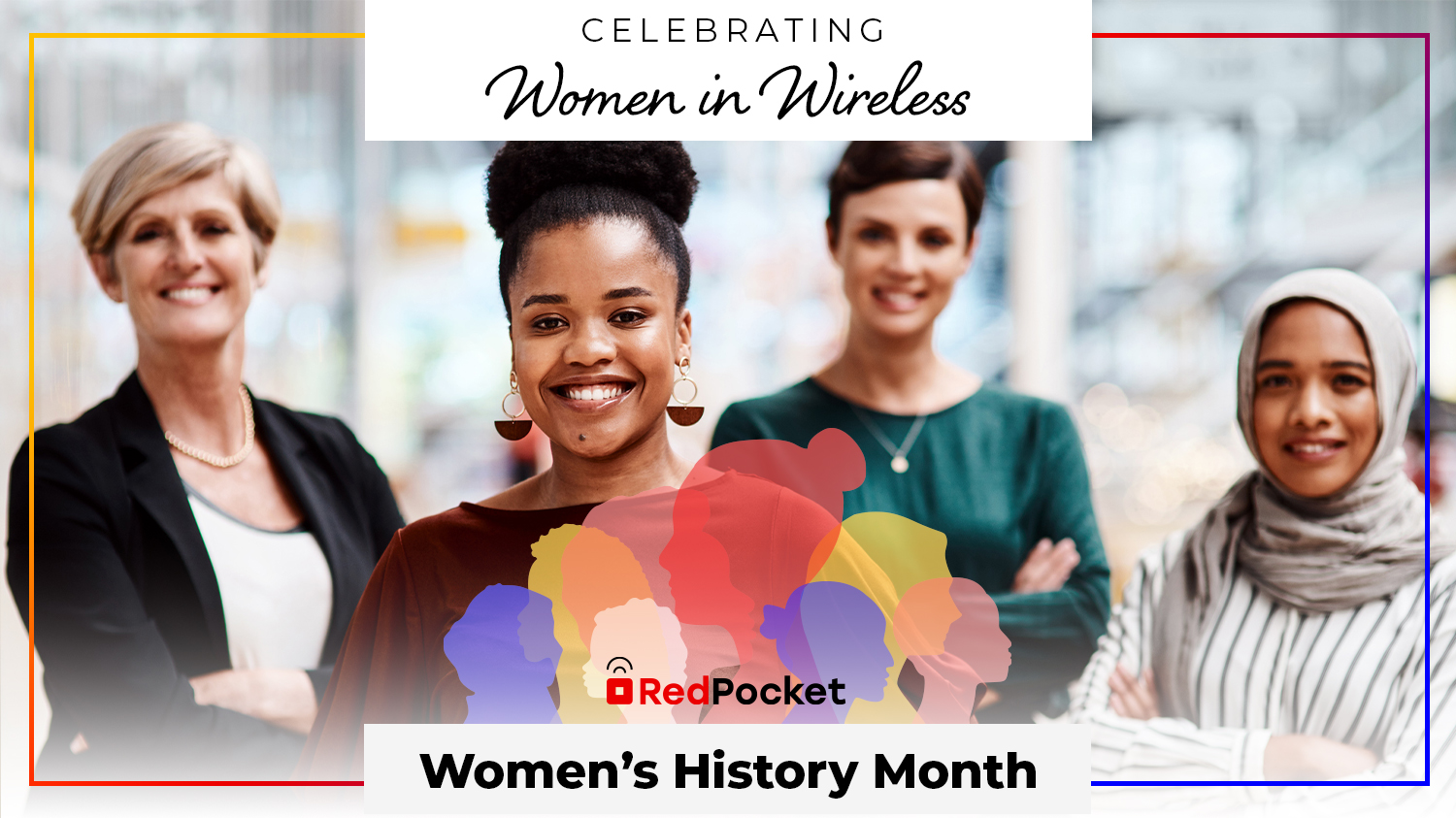 The telecommunications industry has rapidly evolved over the years, with improvements in technology leading to tremendous shifts in our lifestyles. Particularly since the start of the COVID-19 pandemic, people now rely tremendously on mobile connectivity to work and learn remotely across the globe, stay in touch with loved ones, and utilize apps and smart devices in their homes and their pockets.
As Women's History Month comes to a close, Red Pocket Mobile honors 10 women in telecom who have helped to build today's 5G world while inspiring many others along the way. From 19th-century telecommunications pioneers to trailblazing mobile innovators and wireless thought leaders, we are pleased to highlight the following 10 female leaders who have helped shape today's modern communications industry.
Wireless Customer Experience Leader:
Vanessa Muhammad
Customer Experience Manager
at Red Pocket Mobile
As Red Pocket Mobile's Customer Experience Manager, Vanessa Muhammad's mission is to turn every customer's interaction with the company into a positive, friendly, and meaningful experience. Vanessa works across operations, engineering, design, and customer service groups to make sure that customers are delighted, before, during, and after their purchases.
"I love working in the wireless industry because it sits at the center of every other growing technological development," says Vanessa. "From software products, like video games, B2B platforms, and social media apps, to hardware, like cell phones and therapy robots - they all require a wireless network to function."
Vanessa has witnessed - and driven - a lot of change in her 8 years in the industry. "I've not only seen the sunset of WiMAX and 3G, but also the expansion of 5G and eSIM changing the world today," she said. "As the underlying tech changes rapidly, it's important that the customer's experience is front and center, and that we ensure they receive the full benefit of the amazing technology and service that we provide. I'm really excited about what is next in wireless, and excited to keep evolving the customer experience to keep pace."
The First Woman Telegraph Operator:
Sarah Bagley
Labor Movements
and Long-Distance Communications
A spectacular example of nascent feminism was seen in the beginnings of phone technology! Long before landlines, telegraphs were our primary method of long-distance communication. In 1847, just two years after the invention of the electric telegraph, the New York and Boston Magnetic Telegraph Company opened its office in Lowell, Mass. and hired Sarah Bagley as a telegraph operator. Before long, she was running the Springfield, Mass. office, and became the president of the Lowell Female Labor Reform Associations to fight for equal pay when she learned she only made three-quarters the salary of the man she replaced there. She campaigned to make 10 hours of labor per day, the maximum in Massachusetts, and fought for healthy working conditions and women's rights.


Wireless Hall of Famer

:
Arlene Harris
Mobile and Wireless Inventor,
Investor and Policy Advocate
Arlene Harris began her career in the mobile and telecommunications industry at the young age of 12 as a telephone switchboard operator, on her way to becoming the first female inductee into the Wireless Hall of Fame in 2007. Harris founded the company Cellular Pay Phone, Inc. in 1986, where she invented the first unique application of cellular services via a patented, custom-designed cellular phone and management system. Harris later led the development and market introduction of the SOS phone, helped create the first prepaid cellular service, and advocated for greater wireless accessibility, especially among less tech-savvy consumers like senior citizens. She also created the Wireless History Foundation to preserve and promote the field's storied history. The holder of several patents in wireless communications, Harris has had a long career as an inventor, innovator, entrepreneur, and mentor, and has helped shape the modern wireless industry.
Expert Technologist:
Edwige Robinson
Distinguished Technologist and Transformation Leader
Edwige Robinson is an expert technologist, transformational and heart-centered leader who is consistently bridging the gaps between engineering and business. As a native of Ivory Coast, West Africa, who came to America in her early twenties before learning to speak English, she explains that being a black woman and immigrant meant she was a "triple minority," laying new ground for those who dreamt of careers in technology but unable to find mentors and supportive allies in such a challenging field. She has certainly paved the way during her 27-year career, having occupied leadership roles in a field dominated by men, notably in one of the few executive seats available at renowned companies like Verizon Wireless, Time Warner Cable and Comcast NBC Universal. Her expertise in 5G, IoT (Internet of Things) and narrowband-IoT meant to enable a wide range of new devices and services, artificial intelligence as well as machine learning, made her a seamless fit for her latest venture as Senior Vice President at T-Mobile, where leading the nation in wireless 5G has been a laser focus for the brand. Named by diversity research firm Aleria as one of the "Awesome Black Women Everyone Should Know" and lauded by the global women in STEM organization Million STEM as a visible role model who inspires the next generation of girls, it's clear Robinson's impact isn't all data points and mechanical prowess. Listen below to hear why she believes inclusivity of all women is a key component to a company's success.
Coding Queen:
Reshma Saujani
Founder & CEO of Girls Who Code
Reshma Saujani founded Girls Who Code a decade ago, now a global movement to inspire women around the world to enter a predominantly male career path. Girls Who Code encourages women to explore their passions in computer science and close the gender employment difference in the computer and coding industry. Among her accomplishments, Saujani has been named in Fortune's 40 under 40 list, ran for Congress in 2009 as the first Indian-American woman candidate, and is a four-time published author. Saujani has spent more than a decade building movements to fight for women's economic empowerment, working to close the gender gap in the technology sector, and most recently advocating for policies to support moms impacted by the pandemic.
Wireless Pioneer:
Andrea Goldsmith
American electrical engineer and the Dean of Engineering
and Applied Science at Princeton University
Andrea Goldsmith is an electrical engineer who began her career path as a systems engineer at a Silicon Valley defense communications startup, all while she was obtaining her MS and Ph.D. in electrical engineering from UC Berkeley in 1991 and 1994. As an inspirational innovator in the improvement of wireless networks, Goldsmith was honored for her hard work with the Marconi Prize in 2020, one of the highest honors in the telecom industry. Goldsmith, who has helped WiFi and cellular networks adapt to rapidly changing conditions over the years, was the first woman to receive the award in its 45-year history.
Female Founder:
Funke Opeke
Founder and CEO of MainOne
Funke Opeke is the Founder and CEO of MainOne Cable Company, a communications services company based in Lagos State, south-western Nigeria. After she graduated from Columbia University, she followed with a career in ICT in the United States as an executive director with the wholesale division of Verizon Communications in New York City. The former Verizon executive joined public telecoms company NITEL and learned satellites were just part of the problem. So in 2008, she turned her engineer's eye toward the ocean, raised $240 million in funding, and laid 4,400 miles of fiber optic cable from Nigeria to Portugal.
Tech Wizard:

Erica Johnson
CEO at QA Cafe
Erica Johnson leads technical teams in the development of advanced communications as CEO of QA Cafe, which develops industry-leading network device test solutions and network analysis tools for businesses. She is a former director of the University of New Hampshire Interoperability Laboratory, where she led all aspects of the testing services the UNH-IOL offers for more than 20 unique data networking and storage technologies. In recognition of her ability to drive technical innovation, Fierce Telecom named her in the publication's 2011 Women in Wireline. Furthermore, in 2010, UNH awarded Johnson the UNH Women's Commission Stephanie Thomas Staff Award in honor of her achievements in promoting and embodying the advancement of women in the sciences. Widely recognized as an industry leader, Johnson was appointed co-editor of the Network Testing Series for IEEE Communications Magazine in 2010.
Rural Trailblazer:

Shirley Bloomfield
CEO at NTCA
Shirley Bloomfield is the Chief Executive Officer of NTCA, The Rural Broadband Association, which is the premier alliance of nearly 850 independent, community-based telecommunications companies in America. Bloomfield has more than 30 years of experience representing the country's smallest independent telecom operators, and is also actively leading interactions and setting strategic partnerships among rural utilities and federal agencies, rural telecom companies, their larger counterparts, and further expanding business opportunities for NTCA members. Bloomfield also serves as a board member to an organization of women leaders in the high-tech industry – the National Rural Telecommunications Cooperative and GlobalWin.
Wireless Warrior:
Kathryn A. Walker
Managing Director of OpenAir Equity Partners
Kathryn A. Walker has more than 30 years of experience in the communications industry, and currently serves as Managing Director of OpenAir Equity Partners, a venture capital firm focusing on the wireless, communications and mobile Internet sectors. Prior to this position, she served as the Chief Information and Network Officer of Sprint Nextel Corp., leading the overall planning, designing, and operations of Sprint Nextel's wireless infrastructure. Kathryn is an expert technology strategist and respected telecom operator and has excelled in fulfilling her extremely diverse responsibilities, including planning and operating complementary wireline and wireless networks, and managing large-scale IT integration projects.
__________________________________________
These women, among many others, have helped build the incredible connectivity that today's mobile technology provides. These women were not afraid to disrupt the status quo and break through a male-dominated industry to chart their own paths. Telecommunications has changed the world - and we are pleased to honor these 10 women leaders in our industry.