The iPhone 13: The Definitive Guide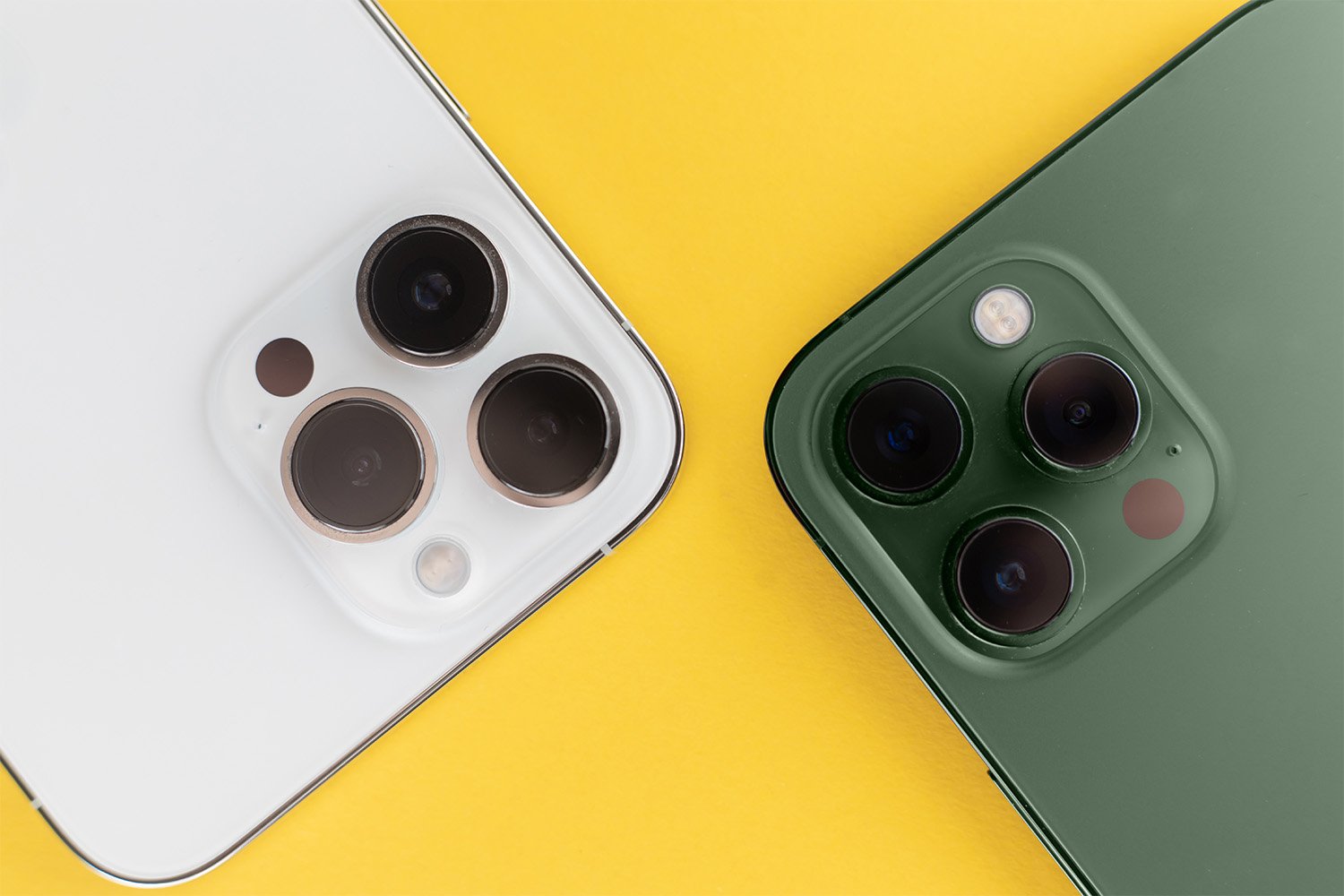 The iPhone 13 was first announced in the middle of September 2021 and launched on September 24 of the same year. Since it hit retailer shelves, the iPhone 13 has been an incredibly popular Apple handset model, offering several significant improvements over its predecessor, the iPhone 12, along with a few different models, including the iPhone 13 Mini and the iPhone 13 Pro/Pro Max.
Although the iPhone 14 was recently released, many aren't convinced it's the right phone for their needs, as it costs $100 more with only a few significant upgrades. If you're looking for a new iPhone, the iPhone 13 could be a great choice, as it's more affordable than the iPhone 14 and comes with many of the same core benefits.
To learn more about the iPhone 13, read on. This definitive guide will break down this flagship Apple mobile phone in exact detail. By the end, you'll know whether this phone is a good choice for you and your budget.
iPhone 13: Quick Overview
The iPhone 13 is one of the best Apple smartphones for individuals on a budget. It is about $100 cheaper than the iPhone 14's launch price, but it features a larger battery, better cameras, improved software, and a better display than the iPhone 12. Thus, if you have an iPhone 11 or earlier, it might make sense to skip Apple iPhone models and go straight to the 13.
This is partially thanks to the high-quality A15 Bionic chipset, which is ready for 5G connectivity and which helps to facilitate fantastic camera enhancements, like Photographic Style filters. The Cinematic mode is also nothing to sneeze at, particularly for photo enthusiasts.
That all said, the iPhone 13 does have some potential downsides, including relatively slow charging compared to Android devices of the same generation. Furthermore, you have to pay extra for iPhone 13 Pro models or higher to enjoy the benefits of 120 Hz displays and telephoto zoom capabilities.
Overall, however, the iPhone 13 is a well-rounded, highly valuable device for businesspeople, teenagers, phone lovers, and everyone in between.
What Are Some iPhone 13 Pros & Cons?
In a hurry? Put simply, the iPhone 13's display, long battery life, and excellent camera suite are its most important positives. However, its slow charging times and lack of 120 Hz refresh rates for the base model are downsides.
iPhone 13 Pros
Has a fantastically bright display
Camera suite is phenomenal from start to finish, even compared to other smartphones from Samsung or Google, like the Google Pixel or the Samsung Galaxy S22
The Cinematic video mode is particularly compelling and interesting
The A15 Bionic chipset leads to phenomenal performance for all mobile phone tasks
The iPhone 13 has excellent battery life, even compared to tablets like the iPad
iPhone 13 Cons
The iPhone 13's base model doesn't come with a 120 Hz display. That's reserved for iPhone 13 Pro or Pro Max models
The iPhone 13 charges more slowly than rival phones
The Cinematic mode is capped at 1080 P resolution
What Are the iPhone 13 Specs?
One of the best ways to quickly analyze the iPhone 13 is to look at its raw specifications. Here's a list of its major features and dimensions:
Starting price: $699
Storage options: 128, 256, or 512 GB
Screen size: 6.1 inches
Resolution/PPI: 2532 x 1170/460
Adaptive refresh rate?: No
Processor: A15 Bionic chipset
Rear cameras: Dual 12MP, wide and ultra-wide
Zoom: N/A and 5x digital
Front camera: 12MP TrueDepth
Available colors: Product red, green, midnight, blue, pink, starlight
Size: 5.8 x 2.8 x 0.3"
Weight: 6.14 ounces
Water resistance rating: IP68
Battery life with video playback: 10 hours 33 minutes
What Are the iPhone 13 Starting Price and Storage Options?
Thanks to the release of the iPhone 14, the iPhone 13's base model is now significantly more affordable. You can purchase the iPhone 13 for $699 with its default storage capacity of 128 GB. Note that this is significantly better compared to the base storage capacity of 64 GB for the iPhone 12.
If you want more storage, you'll have to pay $799 for 256 GB or $999 for 512 GB of storage. That's the highest the iPhone 13 goes. This should be enough for storing lots of photos and videos, which you will likely take and want to treasure, thanks to the iPhone 13's stellar camera suite.
As you can see, the iPhone 13 isn't necessarily the cheapest phone on the block or the market. That said, it's also not the most expensive, particularly considering some more expensive Android phones from retailers like Samsung.
Furthermore, Apple offers a variety of coupons and trade-in deals depending on your wireless carrier. You can sometimes take advantage of Red Pocket's special offers and discounted phones, as well. If you don't mind having a refurbished or used phone, you can likely pick up the iPhone 13 for a discount of $100 or more.
What Are the iPhone 13 Design and Color Options?
Now let's review what you'll see and feel should you decide to purchase and use the iPhone 13.
Compared to the iPhone 12, there were two notable design changes. The rear cameras are arranged in a diagonal pattern rather than a vertical pattern. That doesn't make a major difference in terms of how easy it is to capture stellar photos, but it is something to keep in mind so your finger doesn't accidentally cover up one of the lenses.
In addition, the iPhone 13's camera notch is approximately 20% smaller than the notch on the iPhone 12. However, don't think that this ruins the TrueDepth camera system you might know and love from previous iPhone models. Instead, the TrueDepth camera system works just as well as it did before, as does the Face ID system. With this system, you'll be able to unlock your phone just by looking at the camera rather than putting in a password or using your fingerprint.
The smaller notch is not a major difference, and we suspect that many users won't notice it. This is true even if you watch videos in landscape mode or full screen. In some cases, you may even appreciate the smaller notch.
Aside from these changes, the iPhone 13's button placement is a little different compared to the button orientation for the iPhone 12. For example, the power button is on the lower right-hand side of the phone rather than toward the middle. The ringer switch and volume buttons are also a little lower on the left-hand side of the phone compared to previous iterations.
What about colors? You can purchase your iPhone 13 in up to six different colors, including:
Pink
Midnight
Starlight
Blue
Red
Green
All of these shades are fairly good; none appear overly loud or distracting. Of course, should you choose to equip your iPhone 13 with a durable case, the color of your phone won't matter nearly as much as what is contained within. The green color is the newest and rarest of the bunch, as it was only released in March 2020 for the Apple Event.
What Is the iPhone 13 Display Like?
Let's drill a little deeper into the iPhone 13's excellent display. The display is notable first and foremost for its brightness. It's a Super Retina XDR display, which is approximately 28% brighter than the iPhone 12.
This excellent display is rated at 800 nits (again, much higher compared to the 600 nits the iPhone 12 managed). All this boils down to is that the display is perfectly bright and visible, even if you take your phone out at noon on a sunny summer day. The OLED panel performs vibrantly no matter what, especially if you like to use your iPhone in direct sunlight.
As for display quality, you have nothing to worry about. Streamed media goes straight to your eyeballs in stunning detail and quality resolution. This is partially due to the fantastic OLED panel's color accuracy. The different shades and hues of your favorite shows and movies pop when viewing them on this device.
In this way, the iPhone 13 and its associated models could be great choices if you like to stream media in the palm of your hand. Combined with the below-mentioned exceptional battery life, the iPhone 13 could be an excellent streaming handset through and through for families, teenagers, and media lovers of all stripes.
iPhone 13 Display Glass and Durability
All that display quality won't mean anything if your iPhone 13 screen cracks at the slightest damage. Fortunately, there's not a lot to worry about here. The iPhone 13's display screen is bolstered by CeramicShield glass. In addition, the back of the phone is defended by durable glass and flat edges, meaning the possibility of cracks appearing from an ill-timed drop is less likely.
Sadly, the iPhone 13 doesn't come with Touch ID, but you can still use the Face ID feature if you so choose.
As far as water resistance goes, the iPhone 13 has IP68 water resistance, which is the industry standard, especially for phones of this price range. There isn't any major dust resistance to speak of, so consider keeping your phone out of excessively dusty areas or in your pocket if you are outdoors in a sandstorm.
What Should I Know About the iPhone 13 Performance and A15 Bionic Chipset?
When it comes to internal performance and processing power, the iPhone 13 has it in spades. This is partially due to the high-quality A15 Bionic chipset.
The A15 Bionic chip is one of the fastest in the market, even though it doesn't necessarily offer the most dramatic performance gains compared to the A14. The A15 Bionic chip has a lot going for it, including a 6-core CPU plus a 4-core GPU. All this is to say that the CPU for the iPhone 13 is 50% faster than phones of the same generation.
In more specific terms, the GPU or graphics processing unit can handle the graphics from your favorite games around 20% faster. As a result, you can enjoy your favorite games on the iPhone 13 without any lag and with much better detail than on comparable handsets.
But there's more to using your iPhone 13 than just playing games. Overall, the CPU ensures that you'll never feel like your phone is sluggish. You'll also be able to enjoy multitasking capabilities without much stuttering: a major concern for workaholics or for folks who like to switch between apps all the time.
Even relatively high-performance apps, like Adobe Premier Rush, work very well on the iPhone 13 and its ancillary models. Note that the A15 Bionic chipset provides performance and speed bonuses to other aspects of this phone, such as video recording. Say that you want to transcode a 4K video into a 110 80 P video; the A15 Bionic chip will make sure this happens in less than a minute.
How Is the iPhone 13 5G Connectivity?
With the launch of 5G connectivity across the country, many phone buyers want to know that their new handsets will enable them to benefit from fast downloading speed. The A15 Bionic chip will allow you to do that, and things will likely only get better as more 5G towers are erected across the country.
Of course, your actual 5G connectivity and download speeds are partially contingent on your carrier. Generally, you'll be best off with a carrier like AT&T or Verizon, especially if you want to take full advantage of 5G connectivity.
Overall, though, the iPhone 13 provides good performance across multiple networks. Just note that there isn't any phone noise cancellation with the iPhone 13, which was previously an option available to iPhone 12 and previous iPhone models. This is a strange removal, and we wonder why Apple chose to make it. Keep this in mind if you detect a little more background noise when using your iPhone 13 to speak to friends or family members.
What Are the iPhone 13 Cameras Like?
Then there are cameras: arguably the most important feature for many iPhone models, including the 13. Remember the diagonal orientation of the cameras mentioned earlier? There's a lot more to the upgrades in this attribute than that!
Photos
For starters, the iPhone 13's wide camera collects approximately 47% more light than the iPhone 12. That's partially because it is flatly larger than its predecessor. However, the ultra-wide camera can capture up to four times more detail. It's also equipped with a much better sensor, which can provide improved lowlight performance and less visual noise when capturing photos indoors or at night.
Previously, many iPhone users complained about the lack of control and customization over their devices and photos. For instance, many people don't like the usual color temperature their photos gain when taken with an iPhone.
To solve this, the iPhone 13 comes with a Photographic Styles feature. You can access this in the Camera app, enabling you to switch between multiple color styles, such as warm, cool, rich contrast, standard, and vibrant. Putting more control into the hands of phone users is always a good thing.
What's the difference between these settings? For instance, the rich contrast color mode makes most camera shots appear to be less hazy and more distinct. The vibrant color setting, meanwhile, makes colors truly pop in the environment. This could be a great setting when taking shots in the bright sunlight.
We'd even go so far as to say that the camera quality and vibrancy here are better than comparable cameras in the Samsung Galaxy line of phones, including the Galaxy S21 Ultra. You can, of course, use the phone's portrait mode and benefit from automatic stabilization.
If you were to take the same photo with both the iPhone 13 and the iPhone 12, you'd likely notice that the iPhone 12 could do a better job with photos taken in Night mode. If you are a fan of low light shooting or snapping shots in the evening, the iPhone 13 is your best bet.
Videos
The iPhone 13's cameras don't just deliver stunning photographs and still pics. They also do a great job when it comes to shooting videos.
First to note is the Cinematic mode: a Camera effect that gives your footage automatic depth of field. In this way, the camera's focus will shift to different subjects depending on the action in the frame. For instance, if someone turns their head to speak to someone else, the focus will automatically shift to the person being spoken to, just like in a cinematic feature film. The fact that this is automatic highlights the intelligence of the Cinematic mode more than anything else.
Of course, this automatic feature does have its hiccups from time to time. Sometimes the iPhone 13 will focus on whatever subject is closer to you, even if the true focus of the video footage is further back. That said, it's cool to see a feature like this come to life in a versatile phone.
On the downside, the iPhone 13's Cinematic mode is capped at 1080 P. You can't record in Cinematic mode in 4K resolution. As a result, your future career as a movie director might be a little limited by this low-resolution cap. Still, it's an overall excellent addition to the iPhone 13's already-packed feature suite.
As for total quality, the iPhone 13's video footage is usually top-tier. The phone and its Camera app provide better noise reduction, improved semantic rendering, and improved dynamic range for all the video footage you capture. This is especially noticeable when you compare the iPhone 13's video capabilities directly to the iPhone 12.
How Is the iPhone 13 Battery Life and Charging Capability?
Then there's the battery life and charging Abilities of the iPhone 13, which are nothing to sneeze at (at least for the first half).
When fully charged, the battery of the iPhone 13 should last approximately 1.5 hours longer than the iPhone 12 battery, or around 10 hours and 33 minutes. Note that this is true even when accounting for the brighter-than-average display, the high-powered A15 Bionic chip, and the generally good performance the phone provides.
You can get this 10-hour and 33-minute battery life even when you watch a lot of media or play games. Of course, you can also use a power-saving mode or minimize your phone usage to lesser tasks if you want to stretch out this battery life even further. It's possible to get the battery to last for over 13 hours, depending on what you use your phone for.
On the downside, the iPhone 13 hasn't made major improvements in terms of charging speed. You can reach about 50% battery capacity in 30 minutes with the standard Apple 20 W charger. Plenty of phones can do this same feat much more quickly. That said, 30 minutes for half of your battery isn't all that slow; it's just not super impressive compared to higher-priced handsets.
When it comes to charging your iPhone 13, you'll have to decide which charger you want to use. You can choose the 15 W MagSafe charger, which doesn't involve the Lightning Port. Instead, it charges your mobile device with a magnetic attachment. This could be more convenient, but it does charge your phone battery a little more slowly than the standard lightning port charger.
What Is the iPhone 13 Software?
The iPhone 13 is packed with good software and reasonably decent built-in apps that you can't remove. This is all due to iOS 15, which delivers many improvements and performance upgrades to every iPhone model.
For example, iOS 15 brings better audio and a cleaner interface to FaceTime. The 15.1 update for iOS also lets you watch movies, listen to music, or watch TV shows with your friends and family members using SharePlay. If you use the iPhone Messages app, you can take advantage of the Shared with You section, enabling you to share or track photos, articles, and other links sent to you by your social network.
The Focus feature of iOS 15 is also noteworthy, as it lets you filter different notifications based on your current tasks or work. It could be an excellent feature to use and explore if you use your iPhone 13 for work or if you don't want to be focused on social calls when you have to put your nose to the grindstone.
IOS 15 has other highlights as well, including a redesigned Safari browser. You can even change the location of the address bar, which is located at the bottom by default! The Weather app has also been improved and made more comprehensive, and the Maps app has more detailed and much better reviews than it did previously. Live Text can recognize captured text in real-time using the iPhone 13's camera, helping you to look things up or access translations quickly and efficiently.
The most recent update is iOS 15.2, which provides even more benefits and features. These include an App Privacy Report. Make sure that you upgrade your iPhone 13, regardless of the model, to this latest iOS version so you can take full advantage of the new things Apple produces. IOS 16 is even on the horizon!
Are There Any Issues With the iPhone 13?
As you can see from the above breakdown, the iPhone 13 has a lot to like. However, there are some known issues that you should keep your eye out for, particularly if you pick up a used mobile device.
For instance, some iPhone 13s will not unlock when using an Apple Watch. Though Apple presumably patched this with a recent fix, some users have still reported that they are having difficulties.
On top of that, many iPhone 13 owners have indicated that the touch display isn't as responsive as it should be. The problems may start when you download iOS 15, though we expect Apple to fix this issue sometime in the near future.
If you purchase iPhone 13 Pro, your cameras may automatically switch between different lenses without warning you. You can use a recent iOS update to turn this feature off. Furthermore, the Pro's ProMotion displays don't always run at 120 Hz with some applications, though this was also reportedly updated by Apple (some developers may need to optimize their apps to enable 120 Hz refresh rates).
Aside from these issues, some iPhone 13 users report that they have pink screens or pink spots. If you encounter this problem, try to restart your phone by holding the power button down. If this doesn't fix the issue, contact Apple personally, as you may qualify for a replacement because the issue is with the display screen itself.
What Are Some Key Differences Between the iPhone 13 Models?
The iPhone 13 base model isn't the only type of iPhone 13 you can purchase. In fact, there are three other versions of the iPhone 13 you can find from retailers are online marketplaces. Let's break down each of these subsidiary models so you can make a more informed buying decision.
iPhone 13 Mini
The iPhone 13 Mini is, you guessed it, a smaller version of the base iPhone 13. It has a starting price of $599 and the same storage options as its larger cousin.
Just how much smaller is it? Its screen is 5.4 inches compared to 6.1 inches. It also has a lower screen resolution, 2340 x 1080 P instead of 2532 x 1170 P.
Fortunately, the iPhone 13 Mini uses the same A15 Bionic chipset and has roughly similar cameras. It weighs a little less than the standard iPhone 13, clocking in at just 4.97 ounces. On the downside, the iPhone 13 Mini's battery life is notably worse than the standard model, as it usually lasts under nine hours instead of 10 ½ hours.
Overall, the iPhone 13 Mini could be a good choice if you want an even more budget-friendly phone and you don't mind having to charge your device a little more frequently. Most of the same functionalities and benefits of the standard iPhone 13 are here, so consider this for a kid or teenager who won't be too far away from their charger at all times.
iPhone 13 Pro
Then there's the iPhone 13 Pro: a more expensive, presumably upgraded variant of the base model. It starts at $999 and has the same storage options as the regular iPhone 13.
It also features the same display as a regular iPhone 13, but it can go up to 120 Hz refresh rate. With 6 GB of RAM and the A15 Bionic chipset, you'll be able to watch media and play games with even more high-quality details and loading rates than before.
The iPhone 13 Pro also comes packed with one extra camera. Specifically, it includes a 12-megapixel telephoto camera with 3x optical zoom at the rear. This camera could be excellent for taking even more quality photos with your iPhone 13 device.
More importantly, you can capture video footage up to 4K resolution and 60 FPS. The Cinematic mode is still capped at 1080 P and 30 FPS, unfortunately, but this is still an important improvement if you often like to record videos on your mobile device.
As far as battery life is concerned, the iPhone 13 Pro also comes with an improvement. It can typically reach around 11 hours and 45 minutes, even when watching media, or around an hour and 15 minutes more than the iPhone 13. Charging options are still the same, so other phones will beat the Pro in terms of raw charging speed and power.
The Pro is the same size as the iPhone 13, though it is a little heavier at 7.19 ounces. All in all, the iPhone 13 Pro is a more powerful version of its lighter counterpart. It also includes one extra camera. A better display, better battery life, and an extra camera may be worth another $300 to some, but not everyone. It's up to you to determine whether the higher price is worth these upgrades and improvements.
iPhone 13 Pro Max
Last but not least is the iPhone 13 Pro Max, which has its own differences from the base iPhone 13 model. For one, it's $100 more than the iPhone 13 Pro; it's $1099 to start. This price increases significantly as you access higher storage capacities, which go from 128 GB to 1 TB of storage space. Therefore, the Pro Max is the best if you want as much storage space as possible with your iPhone 13.
Battery life is also a little better, though the jump from the Pro to the Pro Max is less dramatic than the jump from the iPhone 13 to the iPhone 13 Pro. The Pro Max's battery should last for 12 hours and 15 minutes or so, even when watching videos. Video is displayed on a 6.7-inch screen with better resolution than the other models: 2778 x 1280 4P resolution.
Of course, the Pro Max comes with an adaptive refresh rate with a max rate of 120 Hz. It also comes with the same cameras as the iPhone 13 Pro. The Pro Max does come with its own selection of special colors, including gold, silver, graphite, and Sierra blue. Presumably, this is to make the Pro Max feel a little more special in the palms of its owners.
It's also a bit heavier compared to the iPhone 13 Pro, as it weighs 8.5 ounces. All in all, the Pro Max is a little larger, a little more powerful, and a little more spacious in terms of data file capacity than the iPhone 13 Pro. Since it's only $100 more for the base model, you might consider picking this up instead of the Pro if you are satisfied with 128 GB of storage space.
That said, there's also no denying that the Pro Max is significantly more expensive than the standard iPhone 13. It's more comparable to one of the luxury, high-end, recently released mobile devices from retailers like Samsung and Google.
Should You Buy the iPhone 13?
Now that you have all this information, you may wonder whether the iPhone 13 is a good purchase for your specific needs.
Given its price, the iPhone 13 is not one of the most affordable nor one of the most expensive smartphones on the market. Instead, it's best to consider its price as middling. You can purchase an iPhone 13 upfront with cash, or you can settle for a relatively inexpensive payment plan over several months or years.
In terms of power and performance, the iPhone 13 is one of the best on the market, especially since more expensive phones don't do too a much better job when it comes to multitasking, streaming media, or processing some of the most complex and resource-intensive apps.
As far as displays go, the iPhone 13 has a great one, so it's perfect for doing work, taking photos, or enjoying your favorite media. The same is true for its camera suite.
That said, the iPhone 13 is primarily targeted toward camera lovers and iPhone fans in general. Strictly speaking, there's nothing that the iPhone 13 does all that much better compared to similar-priced Samsung or Google products, aside from having some neat innovations and features in its Camera app.
If you're looking for something budget-friendly, there are many better choices. There are also better choices if you are looking for something with innovative features. But when it comes to sheer versatility and popularity, the iPhone 13 can't be beaten.
We'd recommend the iPhone 13 for:
Fans of previous Apple devices
Those who want a well-rounded, "does it all" device
Those who appreciate really great smartphone cameras
Folks who want to watch media in any environment, including in the middle of the day or outside
Final Verdict: The iPhone 13
Ultimately, the iPhone 13 is still a phenomenal handset from Apple. In fact, it's the better choice compared to the iPhone 14 if you are looking for something powerful and versatile that won't be as expensive. It's also a far superior choice to the iPhone 12, especially considering its less-than-stellar battery life. If you own an iPhone 11 or older device, the iPhone 13 could be worth it in more ways than one.
The iPhone 13's smaller notch is a negligible downside that most people likely won't notice. The cameras of the iPhone 13 are particularly noteworthy, and the A15 Bionic chipset has digital muscles that you'll notice when you stream media or play your favorite games.
Bottom line: consider purchasing iPhone 13 if you want to upgrade your Apple handset soon. It's one of the best iPhones ever made, especially in the last year.
If you want to find the best deals for iPhone 13s, Red Pocket can help. Our selections of new and used iPhone 13s could help you get the mobile device you need without breaking the bank;check them out today! Or visit our blog to discover more about the iPhone 13 and similar phones.
Sources:
Apple's A15 Bionic chip powers iPhone 13 with 15 billion transistors, new graphics and AI | CNET
Can I Go Swimming With My iPhone? Breaking Down Water-Resistance Ratings | CNET
What is 5G | Everything You Need to Know About 5G | 5G FAQ | Qualcomm