How To Screen Record on Android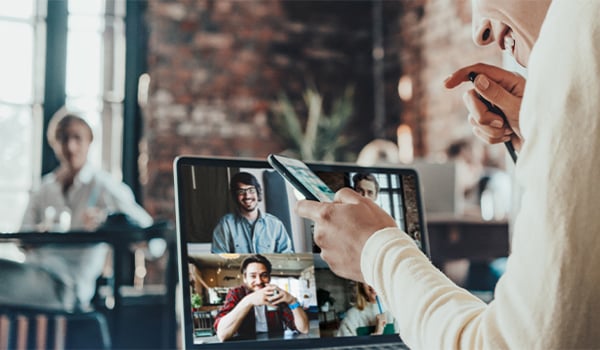 Your Android phone can do a lot (just as much as an Apple iPhone), whether that's play games, stream your favorite shows, or keep you in touch with your friends on the go. But did you know your Android device can also record its own screen thanks to the screen recording feature? When you want to record a text message or capture a funny video to share with your coworkers later, it helps to know how to screen record on Android.
There are a few ways to do it, and some ways may or may not be available depending on what phone you have and the version of your Android OS. Let's break down how to record your phone screen using the Android screen recorder tool.
Is the Android Screen Recorder on All Android Phones?
Technically, no. In fact, Android phones like the Samsung Galaxy S20 can only natively record their screen content if they run on Android 11. Prior to Android 11, there wasn't a built-in screen recording app, so folks just like you had to rely on third-party applications instead.
So, if your phone runs on Android 10 or below, you'll have to use a third-party app or upgrade to a new android device if you want to record your screen. If your phone is currently on Android 10, see if it can upgrade to Android 11. Many of the oldest Android phone models can still upgrade to the 11th version of this operating system, even if they may struggle with some of the more visually complex apps!
Not sure what Android version your phone runs on? You can check it pretty easily by following these steps:
Open the Settings app on your Android phone
Look near the bottom of the app and tap the About Phone button
Then tap the Android version button
On the next screen, your phone should display the Android version it runs on.
Recording Your Screen on Android 11 Phones: A Tutorial
If your phone runs on Android 11, good news: you can easily record your screen with a straightforward process. Here's what to do:
First, swipe down twice from the top of your screen. You'll need to do both of the swipes in quick succession for your phone to recognize the action
Next, tap the Screen Recorder icon. There should be a small icon that looks like a target symbol next to it
Note that you might need to swipe right to find the Screen Record button. If you don't see this button, tap Edit instead and drag the Screen Record button to the Quick Settings menu section of your swipe screen. Then you'll be able to quickly screen record whatever you like in the future!
Now it's time to start recording. Choose whatever you want to record and tap Start. Your Android phone will begin a short countdown, after which the recording will begin
Once you're finished recording, swipe down from the top of your screen once again and tap the Screen Recorder notification panel. This automatically stops screen recording
There you have it! This sequence should work on any modern Android phone with the Android 11 or later operating system.
How To Find Screen Recordings
Recording content on your Android phone is one thing. Being able to whip it out and show it to your friends and family members instantly is another. It's a good thing to know how to find your screen recordings quickly and easily.
To do that, open your Android phone's Photos app. Then simply tap Library and Movies in sequence. You'll be taken to a movie repository on your Android phone, where all of your recorded screen content will be waiting for you. From here, you'll be able to share your recorded content via text message or on other apps, like social media platforms.
Recording Your Screen with ADV Screen Recorder
As mentioned earlier, not every Android phone can record its screen natively. The Android Phone Recording app was included with Android 11. So if you have an older Android device, you'll need to rely on a third-party app to record your screen.
One of the best third-party apps for screen recording is ADV Screen Recorder. This free app lets you record any activity on your screen, including capturing screenshots. After you download this app from the Google Play Store, you can use ADV Screen Recorder by:
Tapping the plus icon in the app opens up its button overlay. This enables you to control different recordings from any screen on your Android phone, but keep in mind that it does neutralize the rest of the screen while it is still open
You have to grant ADV Screen Recorder permissions before it will start working. Depending on your preferences, you can record using your front-facing camera, draw on the screen, and more!
To record with ADV Screen Recorder, just tap the record button to begin videotaping. You can stop recording or pause the sequence from the stop button overlay at the bottom of the screen.
ADV Screen Recorder is one of the most popular screen recorder and video editor since it lets you edit and share your recorded video right from inside the app. There's no need to go to the Movies Library on your Android phone, as you do with the native screen recording app.
Furthermore, ADV Screen Recorder lets you change things like resolution, bit rate, and frame rates for your video, as well as the microphone settings and video orientation settings. All in all, it's a pretty comprehensive screen recording app that puts the native Android app to shame. You may want to download ADV Screen Recorder even if you have a phone that runs on Android 11!
Recording Your Screen With AZ Screen Recorder
There's another third-party option if you're looking for a different screen recording solution. AZ Screen Recorder is free by default, but it is supported by ads. That means you'll have to sit through advertisements from time to time unless you pay $2.99 for the ad-free upgrade.
In any case, AZ Screen Recorder lets you capture screenshots, take video, and begin live video transmission: perfect for streamers or folks who like to stream their online adventures to their social media followers on 5G or 4G.
You can control AZ Screen Recorder right from your notification shade or drop-down menu. As soon as you download the app and give it the right permissions, AZ Screen Recorder will produce a pop-up control button on your screen.
To use AZ Screen Recorder, open it and tap the orange camera button. This begins the recording sequence. You can navigate around your phone just like normal without having your screen neutralized like it is with ADV Screen Recorder. You'll always know AZ Screen Recorder is working thanks to the camcorder icon on the screen. You can tap that icon if you want to stop or pause your recording.
With AZ Screen Recorder, you can begin streaming live video straight to Facebook or YouTube from the app itself, not the social media platforms. You can also view any safety videos and screenshots, then share or edit them as needed. AZ Screen Recorder is also super useful since it lets you do things like:
Adjust your video resolution up to 2220 x 1080 P
Adjust your video frame rate up to 60 FPS
Adjust your video bit rate up to 12 Mb per second
Adjust the time-lapse, device orientation, and whether your phone will record audio
What about the camcorder icon? If you want that to not show up in your screen recording, you can even disable this from AZ Screen Recorder's settings. How neat is that?
Recording Android Games With Google Play Games
Last but not least, Google Play Games is a free third-party app you can use to record Android game footage right on your phone. It only records in 420 P or 720 P resolution, but it's a great way to capture video footage from your favorite games.
After downloading Google Play Games:
Open the app and choose the game you apply
Click the game thumbnail to view details and press Record, which should be at the top of the screen
Choose your video quality and tap Launch to start the game up
You'll notice a video bubble to indicate when the app is recording. You can move the bubble around the screen, so it doesn't get in the way of your gameplay
Then just tap the red record button, which will begin a three-second time or before Google Play Games darts recording your screen content. You can push the same button to stop the recording at any time
Wrapping It Up
Whether you use Android's built-in screen recorder app or choose a third-party application, recording your screen on Android is easier than ever. In all cases, it just takes a couple of button presses, and presto — you've got proof of a conversation or a funny video captured for sharing with your friends and family.
Of course, screen recording on Android is easier with a new, flexible Android device. Red Pocket makes getting the new Android phone of your dreams easier than ever. With big discounts and affordable payment plans, you can get a new Android phone perfect for screen recording in no time — check out Red Pocket's selection today!
Sources:
Take a screenshot or record your screen on your Android device | Android Help
How to Record the Screen on Your Android Phone | PCMag
How to record the screen on an Android phone and edit your screen recording | Business Insider