The Best Cell Phones for Seniors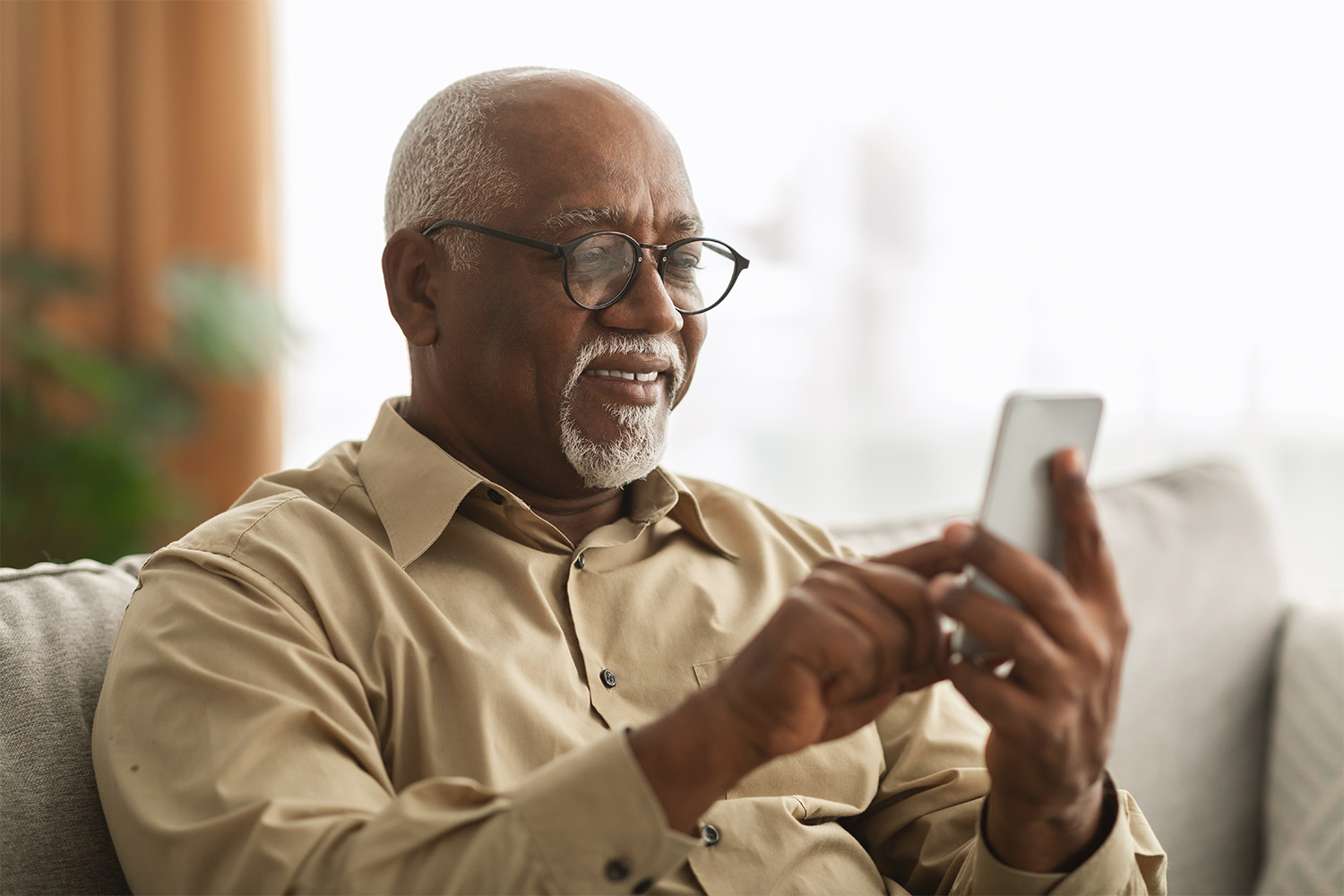 Cell phones are high-tech pieces of equipment. Honestly, the number of features can be overwhelming to people who are familiar with them. So for people who did not grow up around cell phones, the task of finding the right one can be incredibly daunting.
Everyone has different needs, but as we age, those needs get more particular. Our eyesight gets worse, our joints get worse, and our understanding of tech changes. With the complexity of technology, not being an expert can mean facing a complicated learning process.
We understand better than anyone else how hard shopping for a phone can be, but it gets even more complicated when the learning curve to use them is so steep. Finding a phone to fit the unique needs of a senior's lifestyle can be an in-depth process. We are here to try and make it easier.
What Kind of Cell Phones Are Best for Seniors?
There is no single best cell phone for seniors. Everyone has their own unique needs when it comes to buying a phone, but seniors in particular have special needs to account for. The newest phone is never going to be the right answer; it takes more consideration than that.
We need to look at a few factors when thinking about the best mobile phones suitable for seniors. We will find our favorites in the categories that we think are most important, as well as an overall best option. The areas of functionality that are of the greatest importance for a senior cell phone are:
Usability
Affordability
Durability
Long-lasting battery life
Health features
Let us break down these features one by one and see what they all mean.
Cell Phone Usability
Usability means several things. It involves every aspect of the way a phone handles and how you interact with it. Finding a phone that does not frustrate the user with overly complicated layouts and instructions is possibly the most important aspect of cell phone shopping for a senior citizen.
First off, we want a basic cell phone that is high-quality and simple to use. Overly complicated phones are a sure way to hate the device in your hands. That does not necessarily mean the phone has to be basic, just that it focuses on user-friendliness. Of course, sometimes you do just want a simple phone for calling and maybe texting, which we will look at as well.
This also means accessibility. Accessibility options are important on any phone to help the many users who may have different impairments. For a senior, having a phone with proper accessibility options means being able to modify text size or any other options that might make it easier to use. Large buttons can have a positive impact on a phone's usability as well.
Cell Phone Affordability
Phones are expensive. Finding an affordable phone is a difficult task and is something that everyone on a budget can appreciate. There are a lot of options for inexpensive phones.
Sometimes a budget phone means one without any frills, and for some users that is perfect. But there are also plenty of affordable phones that still provide the user with a smartphone experience. They might strip back less necessary features, like an advanced camera, but still offer the advantages of a smartphone.
Cell Phone Durability
Durability goes hand in hand with affordability. If you are spending upwards of $500 to $1000 on a phone, you want to make sure it will last. Even an inexpensive phone should be rugged enough to last you a number of years.
Many phones offer extra durability options, like including screen protectors or just having a more durable screen in general. More expensive phones will also include more durable frames made out of metal instead of plastic. All of these factors go into finding a good phone for seniors.
Cell Phone Battery Life
A cell phone is only as good as its battery life. If you cannot rely on it when you need it because it has too short of battery life, then it won't do you any good. Since we can't all remember to have our phones charged at every moment of the day, it is vital that a phone has a battery life that will stay strong when not in use.
Cell Phone Health Features
Another important thing to look for in a phone as a senior citizen is built-in health features. This includes health tracking, but also easy SOS calling for emergency situations. The right cell phone could replace a medical alert button or help complement one.
Choosing the Right Phone
When we go into grading these phones, we'll be looking at the factors we have listed above. We could just find a phone that meets just the criteria we have graded it on, but then you might end up with a cheap phone that will leave you beating your head against the wall because you cannot use it. We'll try and find a phone that excels in the category we are rating it in, but that also provides a well-rounded experience in the other factors we consider a good phone for seniors.
Let's get started with probably one of the biggest requests seniors have: simplicity.
The Best Phone for Simplicity: The Jitterbug Flip2
The Jitterbug Flip2 is our best bet for a simple cell phone, but it also packs a few other benefits too. The Jitterbug Flip2 is a standard flip phone, with large, backlit buttons and an easy-to-read screen. Another advantage to a flip phone is durability; your screen cannot take as much damage when it is covered up while in your pocket or bag.
The Jitterbug Flip2 also has a solid 10 hours of battery life, and that is just for talk time. While on standby, it will go for much longer. The prevalent urgent response button is easily accessible and uses GPS to know your location.
It includes a simple but decent camera for photo taking, has internet access, and also includes Amazon Alexa support for voice control. This will enable you to utilize Alexa if you wish to ask questions or make calls, which can be an added benefit. It also has a powerful speaker for speakerphone and video chat and is hearing aid compatible, so you know you will be able to hear Alexa's responses.
The best part? The Jitterbug Flip2 is also one of the most affordable options. There are less expensive phones, but the Jitterbug Flip2 offers a few more enhanced features than those, and can often be found for even less if you are shopping at the right time of the year.
This phone is available from Lively and comes with a $14.99 plan option with limited call time and a charge per text message, or a $19.99 plan that provides unlimited talk and text.
Runner-up: Alcatel Go Flip 3
This phone is about the same price and is available from T-Mobile. Its menus are not quite as easy to navigate, and it does not offer the SOS button, so it does not take our top spot. But it gets an honorable mention for offering Google Assistant as an alternative to Alexa.
The Best Phone for Affordability: The Nokia 3310
For affordability, we went with the Nokia 3310; it is not very expensive and is a good alternative to a flip phone if opening one is inconvenient for you. The Nokia 3310 offers a return to the block style of phone that the original Nokia phones offered. What you see is what you get with these phones.
The design of the phone offers a simple screen and easy-to-use traditional buttons. It has a camera, but it is not one you are going to be taking award-winning photos with. The screen is designed to be easier to read in sunlight, and it has a variety of color options that are vibrant and easy to see. It even includes Snake if you want a game to play.
One of the biggest advantages, aside from the price and ease of use, is probably the battery life. With up to 22 hours of battery life, this might be the longest battery life for simplistic phone models. On standby, it will last up to a month at a time without a charge.
There are a couple of negatives to consider, one of them being the lack of internet access. You will not be able to check any emails on this phone, but if you only need your cell phone to be a phone, then that will not be a problem. The other issue is the lack of an emergency button like the Jitterbug Flip2 has.
The Best Phone for Long Battery Life: Samsung Galaxy A-13
We like the Samsung Galaxy A-13 for a few reasons besides its generous battery life. It is fairly affordable for an Android phone, offers the full benefits of a smartphone, and has a good camera for the shutterbugs out there. This is a great phone choice if you have no problem handling a smartphone and are just looking for one with great battery life and a good cost.
Let's look at that battery life first. The Samsung Galaxy A-13 gets 50 hours of talk time with friends, family members, and other loved ones. Yes, 50 hours, with 17 days of standby time. This means that if you do not use your phone regularly, it will be charged and ready to make a phone call for a long time, which is great for emergencies.
The Samsung Galaxy A-13 has a fully featured app store so you can access whatever you want, along with a fingerprint sensor for easy access to your phone that is also securely protected. The screen is 6.6 inches, which makes for dynamic viewing if you need to navigate, but also if you want to stream content. It also has a great camera and plenty of storage space for all your photos. In addition, the sizable keypad and big buttons make it even easier to use the phone.
The price is another selling point. The Samsung Galaxy A-13 comes in at less than $200, which is a huge deal. However, it does not have access to 5G, the current fastest cell network. Unfortunately, the 5G version has significantly decreased battery life.
The Easiest To Handle Smartphone: Apple iPhone SE (2022)
The iPhone SE is a throwback to earlier iPhone designs while they still included a bezel. The reason we have included this phone is its size. With a 4.7-inch screen, it is easier to hold, while also still being big enough to read, especially since you can increase your text size. If holding a phone for prolonged times can hurt your wrists, but you still want a smartphone, then this is the choice for you.
There are some other advantages as well. For example, you get 4G LTE and 5G connectivity, and a powerful device. The iPhone SE will be more responsive than most other smartphones within its price range, which is another advantage of this phone. At around $400, this is the most affordable iPhone you can get.
Of course, there are disadvantages as well. There are cheaper smartphones out there on the market that offer better battery life, and even ones that will have the same 5G speeds. The battery life in particular is poor on the iPhone SE, and will likely require at least one recharge throughout the day if you are using it regularly for browsing. The battery life will be even less if you are playing games or making calls.
The iPhone SE also does not have as durable of construction as some more advanced models of smartphones. The advantage of having a bezel design, however, means that the phone is easier to hold and it also increases durability compared to a phone with a screen that goes all the way to the edge.
The Best Overall Phone for Seniors: Jitterbug Smart3
The Jitterbug Smart3 is your best choice if you want a smartphone that combines a large screen, basic phone features, affordability, and safety packages for seniors and their caregivers. While it does not excel in any one area, it is a good choice for seniors on a budget who want something comparable to an Apple iPhone, but without all the excess and confusion lots of apps can add. You'll see what we mean.
The Jitterbug Smart3 has a big touchscreen; 6.2 inches to be exact. Its simple menu is organized in a list format for easy navigation and readability, and it has lots of options for accessibility. It has full internet access and email and runs on the Verizon network. There are also useful apps included and free brain games.
Seniors will also be able to take advantage of powerful audio, video calling, voice-to-text, GPS navigation, and the medical alert capabilities that Lively offers. It truly is a well-rounded phone for any senior who wants an easy-to-use smartphone. It is not without some faults, despite this.
For one, it can only be purchased through Lively, which limits you to their prepaidcell phone plans. The downside to this is that text and voice plans are separate from limited and unlimited data plans, so you will need to buy both if you want to be able to call, text, and have internet access unless you intend to only connect to Wi-Fi.
If you want the full benefit of the medical alert options, then you will also need to purchase a monthly plan from a provider like AT&T or Sprint for that. There is also an activation fee to consider, which is fairly pricey, though the phone itself is quite affordable at only $150 at the regular price.
Also, while the lack of an app store can be a benefit in keeping the phone simple, it also reduces the phone's versatility. You cannot make changes to the content available on your phone. You might be restricted to some of the apps you have enjoyed previously.
Wrapping Up
While we think these phones are great choices, they are by no means the only options out there. Explore phones that work for you, keeping in mind your own needs. Finding the right phone can require testing, and many places offer limited-time trials so you do not have to commit to a phone right away.
Depending on which phone you choose, you might also be able to bring it to your own network of choice. Do not feel obliged to be stuck to one network. Bring your phone in hand and get just the right data, talk, and text plan for you.
Picking a good phone is a tough job. Many phones offer a lot but do not provide what you need. We hope we have made the phone search a little easier for you with this handy guide.
Sources:
Best Cell Phones for Seniors in 2022 | ConsumerAffairs
Best Cell Phones for Seniors | SafeWise
Best Cell Phone for Seniors in 2022 | Senior Living