The Best Family Phone Plans of 2022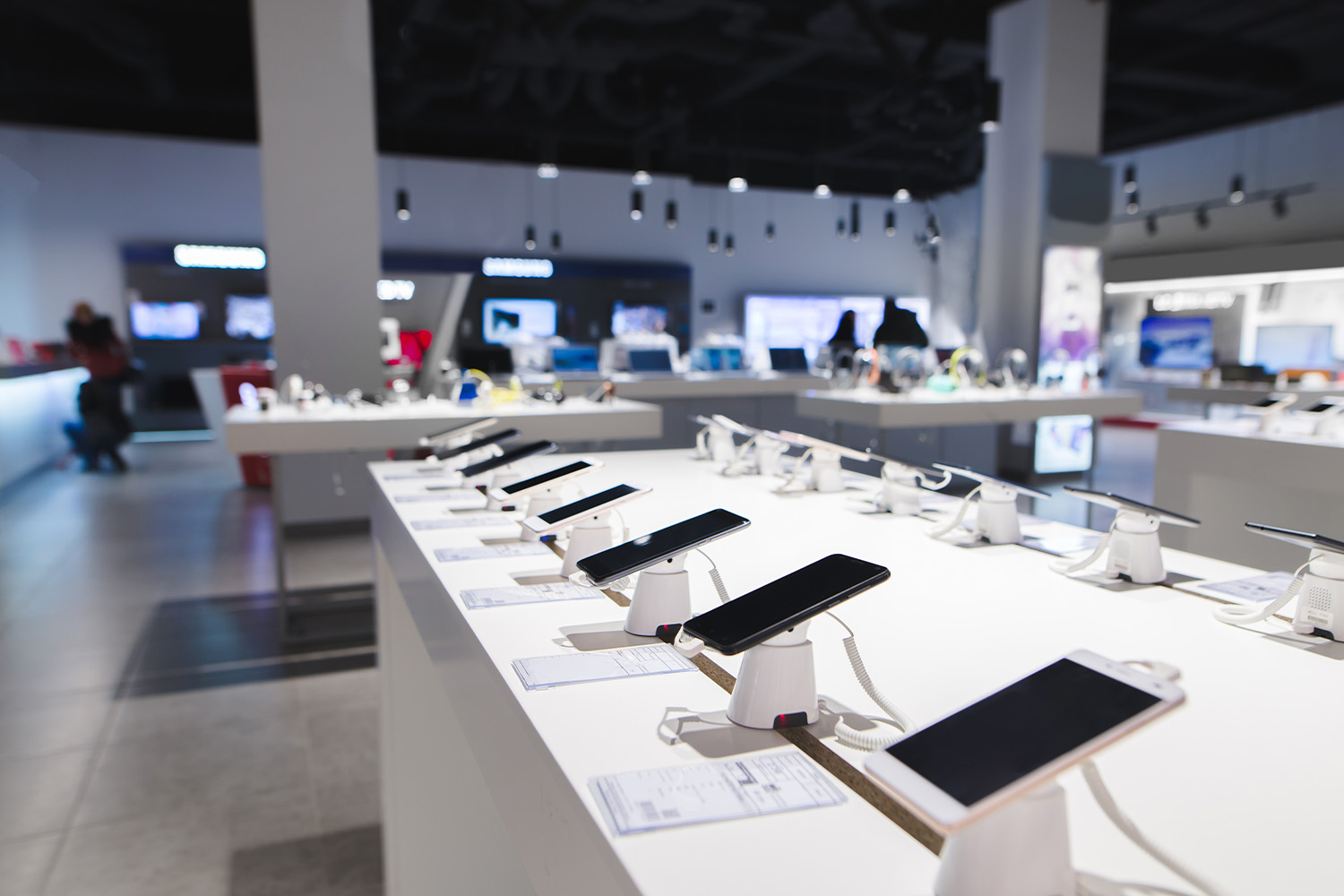 It's that time of year when we all think about our families a little extra. Whether for you that's a source of joy, stress, or both, likely depends on the day — but one thing that's often more stressful than it needs to be is shopping for a family plan that suits the needs of everyone in your fam. Surely there's an easier way.
If you've been tasked with hunting down the best family cell phone plan for your nearest and dearest, you're probably feeling pretty overwhelmed right now. There's just so much information to wade through; how do you know where to look? If your head's in a tailspin and you're losing track of what's a good deal and what you even need, we're here to help. Let's talk about what a family plan really is, what things are important (and not), and where you can get the best bang for your buck.
What Makes a Family Plan a Family Plan?
A family plan is really just a wireless plan that allows multiple people to share an account. Adding multiple lines to a single plan generally results in a lower rate per line. Each person in the family plan has their own device and own phone number.
The plan shares a pool of text, talk, and data, so unless you get an unlimited family plan (recommended), you could find that someone else on your plan used up all your high-speed data, just like when your brother uses all the hot water in the morning. Because it's one account, only one person is named as the account holder, and this person must pay the bill.
Contrary to what the name might suggest, you don't actually have to be related to the other people on your plan. It does help to all live in the same household, but that's not explicitly required by any providers. For most single young adults, a single-line phone plan seems like the only option, but a multi-line plan will offer a way better rate per line. When you're a young adult, saving every penny is even more important, so you're left with an odd question:
Which of your friends are trustworthy enough to add to your family plan? Remember, every family plan has a primary account holder, and that person will be held responsible by the provider for making all the payments. The last thing you want is a friend with a bad habit of not fulfilling your Venmo requests in a timely manner (or ever) and "forgetting" to reimburse you for their share of the bill.
On average, families (or "families") of four pay $120 to $220 per month for one line per person with plans from the major carriers. Some carriers limit the number of lines in a plan to four, while others will grant you up to 10 lines on a plan. Once you're in a plan, adding more than two lines can save you some more money, depending on the provider. If you want another little way to save, set up autopay on your account or look for a bring-your-own-device discount.
What Should You Consider When Selecting a Family Cell Phone Plan?
When choosing a company, the first thing to consider is which networks they support. Naturally, you want a provider on the network that offers the best coverage in your area. If you're in a dead zone for T-Mobile, it doesn't matter how affordable their plan is because you'll be so frustrated with their service.
The most important thing to look for is an unlimited data plan. Unlimited plans ensure that no one family member hogs all the data on the plan (accidentally or not). You need a plan that has plenty of space for hotspot data, so you are all free to use your mobile hotspot whenever without running up the bill. Of course, on the other hand, if budget is your primary concern, limited data plans are very cost-effective. If you opt for a limited data plan, it's up to you to stay within the limit, or it will very quickly become a not-so-budget-friendly plan.
How many lines will you need on this plan? More lines often mean more savings, but many carriers cap the number of lines at four lines, so if you're a family of five, you're out of luck. If you know you need more lines than average, you want to find a plan that can accommodate as many lines as you require and reward you for having more people on your plan.
It may seem a little extra, but consider how much media you stream in a month since video streaming chews through data faster than most anything else. If you stream show after show after movie after cinematic masterpiece, not only do you need to get an unlimited data plan, you should get an unlimited data plan that won't throttle your speeds after a certain data usage point. You should also pick a plan that gets you free access to a streaming service, such as Netflix or Disney+.
At the end of the day, your consideration comes down to a T chart of pros and cons: what balance of perks and price do you need?
What Are Some Plans From Major Carriers?
If you're like most Americans, the major carriers are probably the first place you go to look for a mobile plan. After all, they do pack some major brand recognition, and there's something to be said for the inherent trust given to companies that are long-standing household names. Let's take a closer look at the family plans available this year from the three major US mobile carriers.
T-Mobile
T-mobile plans for families include T-Mobile Magenta and Magenta Max. These plans are definitely on the pricier end, even for major carriers. However, they both include a ton of data:
The Magenta plan has a high-speed data cap of 100GB. For a four-line family plan, the package is currently available for $140 per month when you turn on autopay. The regular price for this plan would be $160 per month. This plan can accommodate up to six lines.
On the other hand, Magenta Max has no data caps for truly unlimited high-speed data. Magenta Max gets you unlimited 5G data, whereas the regular Magenta plan offers only some 5G coverage. The Max plan can accommodate up to 12 lines, but the price increases by $10 per line after eight lines. For a family of four, the Max plan will run you at least $200 per month before taxes and fees.
Both plans come with some pretty great perks, including a year of free Netflix, free Paramount plus, and six months of Apple TV plus (one year on the Max plan). T-Mobile's family plans offer some cool perks and the best 5G support, but they're certainly not the most budget-friendly.
Verizon
Verizon wireless plans for families include Verizon Welcome Unlimited and Verizon 5G Play More. These plans really represent two ends of a spectrum.
The Welcome Unlimited plan is a four-line family plan for $120 per month. As the name suggests, it's an introductory unlimited plan and Verizon's version of a cheap cell phone plan. There are no perks on this plan, not even so much as some hotspot data, and certainly, no streaming services included. However, you do get some access to 5G through this plan. You get unlimited talk & text, and the data cap is variable for a fee.
The 5G Play More plan is the most expensive plan from Verizon — $60 more per line per month than Welcome Unlimited. This plan has the best perks by far: unlimited hotspot data, Disney plus, Apple Music, and gaming subscriptions to Apple or Google. As the name suggests, you get thorough 5G coverage, which includes Verizon's Ultra Wideband Service, which is faster than standard 4G LTE and has broader coverage thanks to the addition of C-Band 5G earlier this year.
However, your data speeds are subject to throttling after 50GB of data usage. Their goal is to prompt you to pay for 5G Get More, which is a more expensive tier that still gets you unlimited 5G data as well as other add-ons. Still, if you want unlimited 5G plus a bunch of perks, T-Mobile uber expensive plan is still more cost-effective.
AT&T
AT&T's unlimited premium plan is called Unlimited Extra. It gets you 15GB of mobile hotspot data with several other perks. Additional helpful features include 50GB of high-speed data and unlimited data while traveling to Canada and Mexico. This data cap is similar to most of Verizon and Sprint's plans but more affordable.
You can get four lines on this family plan for $160 per month. It's a decent balance of perks to price. It's a low price and includes no streaming service, but does include hotspot data. It's certainly worth more than their started family plan, Unlimited Starter, which can slow your speeds at any time.
What Are Some Plans From MVNOs?
MVNOs, or Mobile Virtual Network Operators, are smaller wireless providers that offer you the same service as the major carriers by using the same networks run by the major carriers. Some notable carriers in this category include Boost Mobile, Mint Mobile, and Tello. Some MVNOs use only one network, like Visible, which only uses Verizon's network (CDMA), but others, like Red Pocket, use all three.
As you might expect, MVNOs offer relatively few perks compared to major carriers; but in return, they offer way better rates for both monthly plans and annual plans. If saving money is your number one concern, consider a prepaid plan from an MVNO. Though it's untraditional, it may be perfect for your wireless service and budget needs.
Red Pocket Mobile Has the Best Family Plans
Red Pocket Mobile offers unlimited prepaid family plans starting at just $30. We don't do activation fees because we believe you shouldn't have to waste your money on frivolous fees. You can add up to 4 additional lines (for a total of 5 lines to a plan) for just $20 per month per line for additional lines.
For a family of 4, that would add up to $90 per month — this is $30 cheaper than the average plan from major carriers. Just $30 per month for a year adds up to $360 in annual savings without sacrificing any of the services you need.
Red Pocket's Family plan gets you unlimited everything: Unlimited talk, text, and LTE data. We won't penalize you with added fees for international calling — not just Mexico and Canada. You can call anywhere for no added fees on top of the plan cost.
Our family plan can also grant you 5G access on GSMA & GSMT (AT&T and T-Mobile's) networks (as long as you have a 5G network-compatible device, such as the iPhone 14). You can also get wifi calling included on these networks with your Red Pocket family plan.
Speaking of multiple networks, Red Pocket is one of only a few MVNOs that grants you the ability to mix and match mobile networks within your plan! If you prefer AT&T's network but your partner prefers T-Mobile's, no worries, you can both have the coverage you want.
Sources:
Wireless Unlimited Data Plans | Red Pocket Mobile
Family Mobile Plans to Suit Your Needs | Red Pocket Mobile
Best family cell phone plan in 2022 | Tom's Guide
Should you share a family phone plan with friends? | Reviewed