The Best Apple Watch Apps Guide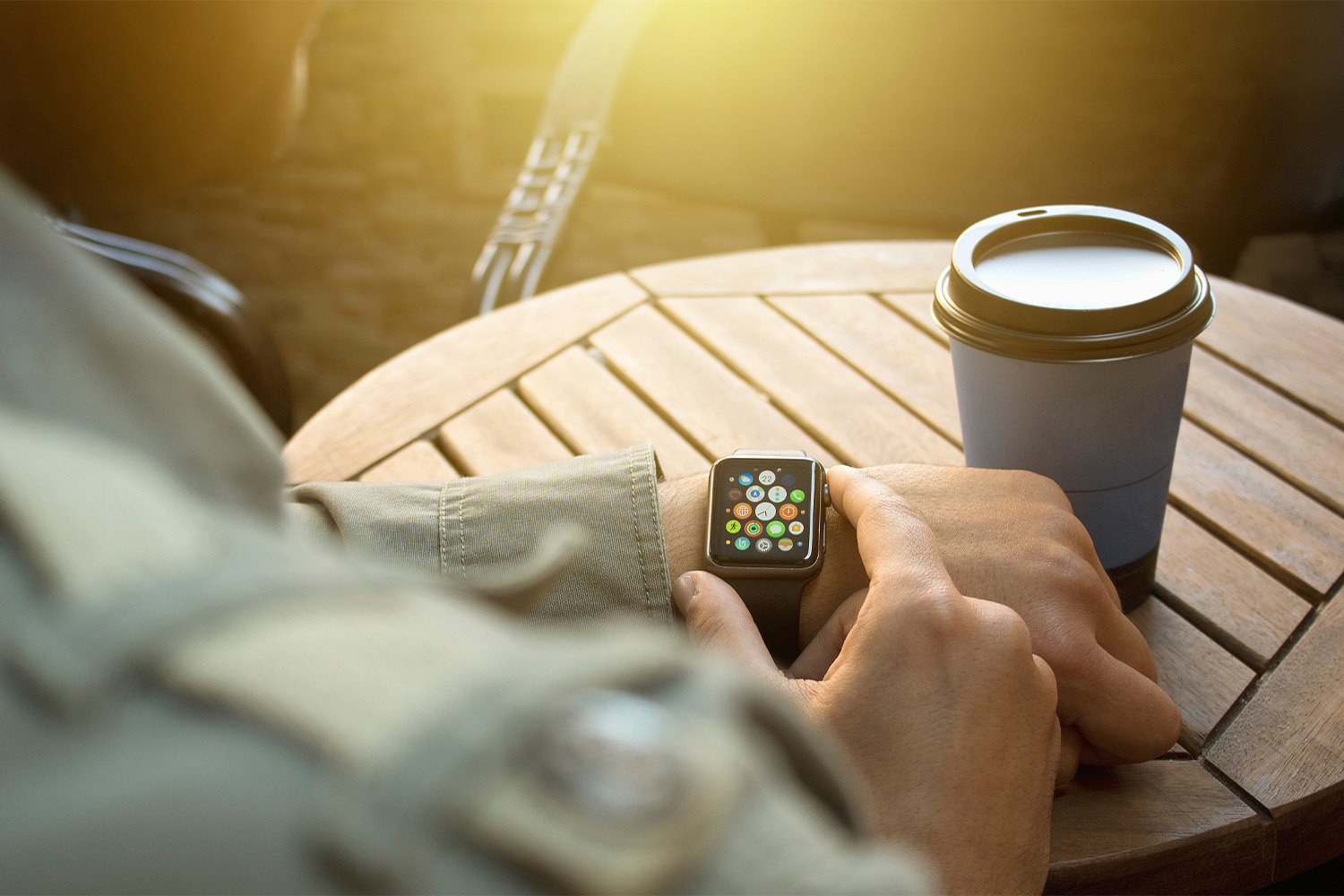 We at Red Pocket Mobile have compiled a list of some of the best Apple Watch apps available on the app store right now. Whether you just got a brand new Apple Watch or are just looking to get more use out of the Apple Watch you've had for a few years, these apps are here to make your day easier, more productive, and more fun.
Before we dive in, make sure you have iCloud set up on your Apple Watch. Many apps on the watch need to be able to connect to your iPhone to function properly (and if you need help getting a new phone to begin with, we can help with that).
Best Weather Apps
Dark Sky
Dark Sky is often hailed as the most accurate weather service available online. It's so highly rated that Apple has actually acquired Dark Sky, and as of the new year (2023), Dark Sky will become the default weather service on all Apple devices, including iPads and Macs.
It offers extraordinarily precise forecasts, not based on your local weathervane, but based on where you and your device are standing. Dark Sky is so accurate because it pulls its data directly from NOAA, the National Oceanic and Atmospheric Administration, and parses it into comprehensible notifications to share with the masses. Download Cost: Free (Soon to be automatic!)
Carrot Weather
If you want all the accuracy of Dark Sky, but delivered with a little more flavor, try Carrot Weather. You would never think that comedy and meteorology would go together, yet Carrot Weather's sassy, sarcastic AI narrator makes it seem so natural. Caught in the rain? This app will tease you about it. You can choose one of five personalities to give your AI, with varying levels of meanness.
It's color-coded and easy to read, and the notifications feel like texts from a friend. Unlike any other weather app, it also offers fun little location-based challenges akin to geocaching, but digital. Carrot Weather injects a little fun into an otherwise dull part of the day. The download is free, but for maximum precision, they offer different tiers of premium membership for a fee. Download Cost: Free
Best Travel Apps and Watch Complications
iTranslate Converse
We live in a world where over seven billion speak thousands of languages, so when you're traveling, you want to enrich your experience by speaking with locals regardless of a language barrier. iTranslate Converse lets you use your Apple Watch as a universal translator. The app can translate 38 different languages, and even help you sharpen your language-learning skills when it's not helping you translate a conversation in real time.
Even if you don't know which language you're hearing, iTranslate converse can detect and determine the language for you. It even seems to work in noisy environments, and it can provide you with a transcript of what you heard and what you said for you to review later. When you travel abroad, wouldn't it be nice to talk with everyone?
Download Cost: Free
Citymapper
It doesn't matter if you're exploring a new city across the world or you're exploring in your own backyard; Citymapper is the best tool to help you get from point A to B. Citymapper covers all major cities in the US and Europe. If you're in your own hometown, you can save significant locations like home or work and subscribe to alerts from your local transit authorities. It's more than a map and compares all means of transit that a city has to offer.
From public transport, like buses and light rails, to private transport, like rideshares or your own two feet, Citymapper will show you your route options. It gathers data from the city's public transport agencies (like the DC Metro or the NYC Subway), so it can keep you up to date on delays and other service changes. It also allows you to compare the prices of one route to another, including things like cab fares, bike/scooter shares, and metro tickets. They've partnered with notable brands like Uber, Lyft, Lime, Bird, Scoot, and many more to keep that info accurate up to the minute.
You can even download routes to navigate offline to conserve data and battery. Once you've selected your route, Citymapper will give you turn-by-turn directions and hot tips, like telling you which scooter near you has the most charge or where your car might get towed. It'll even tell you when to leave to avoid traffic or make your bus. This app really has thought of everything when it comes to traveling in a city.
Download Cost: Free
TripIt: Travel Planner
We all need a vacation, and your vacation shouldn't be an added source of stress. TripIt takes the stress out of travel planning by streamlining your itinerary automatically for a whole trip. You just forward your flight, train, hotel, or other ticket confirmation emails to their email address (plans@tripit.com) or give the app access to your Mail App (so it can find it for you), and your itinerary will appear in the app to let you know when to leave and when to be there. Then, you can share this comprehensive itinerary with everyone on your trip, and send them updates if plans change. Their basic plan is free, but for a subscription fee, you can upgrade to TripIt Pro to track your flight in real-time, look for flights, manage airline miles and hotel points, and more! Download Cost: Free
Elk
If you're traveling abroad and planning on buying anything, you need Elk. Elk takes all the guesswork out of converting local currencies so you can be smart with your money no matter where you roam. It's a simple interface that lets you convert currency quickly. With permission, it will identify your location, and tell you which currency you need. Then, it will even recommend the amount you need.
Download Cost: Free
Best Productivity Apps
Boosting your productivity is one of the Apple Watch's primary selling points. There are a great many productivity apps available for the Apple Watch today, so how do you know which ones are both effective to use?
Fantastical
You've probably heard of this Fantastical calendar app for Mac and iPhone, but did you know it's available on the Apple Watch as well? It keeps all your daily and weekly organizational tools at your fingertips, all contained in a sleek interface.
It's moderately customizable. You can select which details to show in a widget, color code, and change the font size. You can also interact with this app through voice commands like Siri, and it understands six languages.
Download Cost: Free
Just Press Record
Just Press Record is a great app for taking notes on the Apple Watch. You've probably already noticed that physically writing on the Apple Watch is pretty tedious and often frustrating. Instead of writing individual letters or typing on an itty bitty keyboard, why not just press record? With one touch, you can dictate your note to the app and it will transcribe your notes for you. If your hands are tied, you can also start the recording by asking Siri to start it for you.
You can save your notes as both audio files or text files, both of which are editable in the app. Just Press Record can use iCloud to sync your notes across your Apple devices. Record meeting notes, notes to self, shopping lists, creative epiphanies — whatever you need to jot down before it flees your mind.
Download Cost: $4.99
Best Finance Apps
Pennies
Pennies for the Apple Watch helps you keep track of all your pennies — and nickels, dimes, quarters, and dollar bills. It's a simple-to-use app to help you create budgets and stick to them in your day-to-day. It will tell you how much you've spent in one category over a set period of time, and how much more you're free to spend. It's practical and useful for people at all stages of their financial journey.
Download Cost: $4.99
Chronicle
You have a lot of bills to keep track of, but luckily, your smartwatch can keep track of them for you. Like its Mac and iPhone version, Chronicle for Apple Watch can quickly and succinctly show you which bills will be due soon. It will notify you if a bill is due or past due so you can pay it promptly. Paying bills is no fun for anyone, but Chronicle at least helps you lighten the mental load.
Download Cost: Free
Best Health Apps
AutoSleep
Getting a good night's sleep is one of the best things you can do for your body. If you want to keep track of your sleep quality and quantity, the best tool available for the Apple Watch is AutoSleep. It detects when you're asleep and when you're awake. Every morning, you'll get a full report of your movement and heart rate while you are in bed.
You don't necessarily have to wear your Apple Watch while you sleep, but if you leave it on your nightstand, the data will be less detailed because it won't be able to capture your heart rate. It can also act as an alarm to wake you at just the right time in your sleep cycle. Unlike other sleep-tracking apps, AutoSleep has been named one of the best apps in the App Store by Apple every year since 2018.
Download Cost: $4.99
Water Reminder
The human body is about 60% water, so you need to stay hydrated. It can be hard to remember to drink as much water as you should, so why not have a little help from your wearable tech? As you log your beverages throughout the day, Water Reminder will let you know if you need to drink more water.
Tell the app a little about you, like your age, size, athletic habits, and hydration goals so it knows how much water to encourage you to drink. This app has the option to sync with Apple's Health app, so you can keep all your health data in one unified place.
Download Cost: Free
Headspace
Headspace is a meditation app that guides you through breathwork and meditation sessions. You've probably heard ads for this app before from your favorite influencers, but in this case, you should believe the hype. This popular mindfulness app has a myriad of glowing reviews on the app store. If you've tried it on the iPhone before, the Apple Watch version is even more effective because it doesn't rely on you watching the screen, and a visual disconnect from your device can improve your concentration and your relaxation.
Guided meditation sessions can last anywhere from one minute to 10 minutes. The app is free but there are many in-app purchases available if you want to take advantage of their paid features. For example, a premium subscription costs $12 per month.
Download Cost: Free
Air Matters
The quality of the air you breathe matters. You want to get outside to get a breath of fresh air, not a breath of pollen or pollutants. The Air Matters app tracks air quality data, both in general and as it pertains to specific allergens. You can customize its widget on your watch face to display general air quality or any particular particulate you might be averse to. This app is best paired with its iPhone counterpart because it gives you the most customization options.
The app will also display current weather conditions since things like rain and heat can impact air quality. Like a weather app, Air Matters can give you a weekly air quality forecast. The quality of the air you breathe has a direct impact on your health, so make sure you're getting outside to enjoy the freshest air.
Download Cost: Free
Medications
This app comes so highly recommended, it now comes pre-installed on your Apple Watch. Just go inside your health app to find it. If you have medications you need to remember to take, as so many do, this app will help you keep track and remind you if you've missed a dose. To set it up, enter the health app and input a list of medications with the relevant details, such as time, dosage, and even a picture of it.
You can, if you choose to, automatically share your med status and other health data with family members or your medical professionals from within the app. If you're the partial caretaker of a person who is mostly independent but needs constant reminders to take their medication, this might be a good app to equip your loved one with.
Download Cost: Free (and already pre-installed on your watch)
Best Fitness Apps
Many people rely on their smartwatches to support their fitness goals because of the watches' ability to track biometric data. With the millions of workout apps for the Apple Watch on the app store, it can be hard to find the ones that are worth your sweat. Check out these ones for your next workout.
Strava
Perhaps the best workout app on the app store right now is Strava. This app is perfect for runners and cyclists, as well as yogis, hikers, swimmers, and players of 25 other sports. Strava can track your average pace and heart rate. For any outside adventurous sports, there's a routes feature that can recommend popular trails or let you save your own path. This feature also allows you to share your location with friends for safety. You can sync Starva with other health apps and devices, like Apple Health or your Fitbit.
If you love a challenge, check out Strava's monthly challenges to compete and collect digital badges. Or, you can create your own challenges to share with your friends. It also can help improve your accountability by incorporating social media aspects that allow you to share your workout stats with friends. Just don't let those features discourage you if your friends are logging more miles; it doesn't matter how fast you go, as long as you don't stop.
Download Cost: Free
Start With Yoga
If intense workouts are not your speed, why not Start With Yoga? Yoga is intended to be a spiritual practice to engage your body with your higher self, but it's a little hard to get in touch with your spirituality when you're staring at your phone screen and struggling to hold poses that are too advanced. The app comes with pre-designed routines for beginners and advanced yogis alike, but you're able to create and save your own routines.
The target audience of this app is beginners (as the name might suggest) who are just starting with yoga. No need to go to an intimidating in-person class; you can experiment in the privacy of your own home. Your watch will offer you guidance on form, and tell you how long to hold certain poses. Unlike other yoga apps (or those yoga videos on YouTube), Start With Yoga for Apple Watch can assess your skills and give you notes for improvement.
Download Cost: $2.99
ViewRanger
ViewRanger is like a GPS for adventurers, whether they hike, bike, or walk. Paired with an iPhone, you can send outdoor, off-road routes to your Apple Watch. ViewRanger helps your smartwatch and therefore helps you know your surroundings before and during your adventures. It provides turn-by-turn directions, fun facts about your surroundings, pictures of notable route features, and of course, your pin on the map. It provides all the standard GPS features you would expect as well. Not only will ViewRanger prevent you from getting lost offline, but it will also help you gain a better appreciation of your setting. As a bonus, this app will sync up with your Apple Health app so your adventure can help you towards a great workout.
Download Cost: Free
Best Educational Apps
We live in the future. We're used to having the entire collective knowledge of mankind at our fingertips at all times. Apple Watch supports many apps to help you put that knowledge on your wrist to make you a lifelong learner.
PCalc
PCalc is more than just a calculator. It's several different calculators in one neat package. If you're a STEM student or STEM worker, or maybe you just enjoy math and physics, PCalc will be your new friend. This app supports split-screen mode, so you don't need to constantly open and close your calculator app if you're working on the same device. It allows you to edit the units you're working in, as well as the conversions and functions, and you can save those customizations and sync them to your other devices.
It gives you the ability to switch between modes: binary, hexadecimal, and octal. It also keeps track of your calculations for you with its ticker tape mode. There is no need to buy an expensive scientific calculator when PCalc exists for free. As a bonus, if you're a fan of tabletop games (or any other event where you may suddenly need a D20), you should download PCalc immediately because you'll have every die you need ready to roll on your wrist.
Download Cost: Free
Babbel
Learn a new language on the go. Want to learn a new language but have trouble carving out the time, even for a certain very insistent green owl? Babbel for Apple Watch is designed to be used while you're out and about doing other things. Languages currently offered in the app include Spanish, German, English, French, Italian, Polish, Portuguese, Russian, Dutch, Danish, Swedish, Norwegian, Turkish, and Indonesian.
You may have seen or even used Babbel before; it's a tried and true app that's backed by research from some of the country's top universities. If you have seen it before, you might be wondering what makes its Apple Watch iteration different.
The Apple Watch app utilizes your location data to help you train your brain, by prompting lessons at specific locales to improve your memory. By learning in small bite-sized lessons while you're on the go, you actually improve your retention ability. While the download itself is free, you do need a paid subscription to access the full lesson; however, costs may vary depending on the length of the lesson you choose.
Download Cost: Free
Kitchen Stories: Tasty Recipes
If you need to learn how to cook, or perhaps you'd just like to learn some new recipes, all without trying to find a place to prop up a bulky cookbook, you've gotta try Kitchen Stories: Tasty Recipes. After you select a recipe, the app will automatically formulate a shopping list for you. Even on the small screen, each recipe is accompanied by professional pictures and videos.
You can search for recipes that match your dietary restrictions, including gluten-free, dairy-free, low-carb, vegan, vegetarian, and low-calorie. You can even browse by difficulty to match your expertise level. Save your favorite recipes to your own digital recipe card box. The app also handles conversions and serving size changes for you, no need to break out your calculator. The app is friendly to beginners and experts alike.
Are you an expert with a recipe to share? You can publish your own recipes for others to enjoy. Are you a beginner who just graduated from toaster tarts? Follow step-by-step video tutorials and read articles full of pro tips. From appetizers to entrees to desserts to cocktails, from after-school snacks to four-course meals, culinary inspiration is right on your wrist. While you cook, switch from browsing mode to "cooking mode" to cue you as you cook and ensure you don't lose your place.
Download Cost: Free
Elevate Dash From Elevate Brain Training
Your brain needs a workout just like your body does. Elevate Dash from Elevate Brain Training is like a game, but it helps keep your math, reading, memory, and writing skills sharp. If you grew up playing those educational computer games on your parents' desktop, you're going to love this.
There are 35 different minigames within the app, but you don't get to pick and choose which one you play. The app will present you with puzzles to solve, which may revolve around spelling, tipping, vocab, fractions, memorization, and more. For in-app purchases, you can unlock more features.
Download Cost: Free
Night Sky
Learn more about the world around you — well, mostly the out-of-this-world around you. Similar to its iPhone app counterpart, Night Sky for Apple Watch will show you the stars and celestial bodies above you when you hold your wrist up to the sky. You do not need to have the app downloaded on both of your devices to use it, it works independently on your watch.
You can also toggle the map to see the history of the sky, meaning you can see what the stars looked like on almost any day before — or even what the stars will look like in the future. Whether you're an astronomy hobbyist, astrology junkie, or just enjoy wishing on stars, Night Sky is a simple, delightful app for all ages.
Download Cost: Free
Cheatsheet Notes
Unlike when you were in high school, there are very few times you're not allowed to check your notes in adult life. Cheatsheet Notes is not for cheating on tests, but it's great for keeping all your notes in a handy, accessible format. You can give each of your notes a colorful, quickly identifiable icon, and you can set them up on your watch face for use at a glance.
This isn't really like the notes app on your iPhone, which you can use somewhat like a journal; Cheatsheet Notes is mostly intended for bullet notes, reminders, and cue cards. Stop writing on the back of your hand, and start writing your notes on your Apple Watch.
Download Cost: Free
Best Entertainment Apps
It's no secret that the Apple Watch was built to maximize productivity, but life's no fun when it's all work and no play, and the same is true of your tech. Here are some of the best apps to bring a little joy to your day.
Overcast
If you're not in love with Apple's Podcast app, Overcast is an absolutely fantastic alternative. A neat thing about Overcast is that you don't need to stop other tasks to interact with it: you can use the digital crown to adjust volume, swipe to skip, and the app will automatically skip dead air and adjust the audio balance across your playlist if you let it. This app is available on both the iPhone and Apple Watch, so you can keep your content synced between devices.
Download Cost: Free
Pacemaker
Be your own DJ with Pacemaker, an app that creates mixes using your Spotify and Apple music library. You can create the mixes yourself from individual tracks or ready-made playlists, or use their Automix feature to let their AI DJ mix for you. You can add effects to the music, like mashing songs together or distorting the sound with white noise, reverb, and more. This app is the best in its class, it's even the choice of many professional DJs.
Download Cost: Free
ESPN
Every sports fan knows that ESPN is the play to get all the sports coverage in one place. No matter your game, football, basketball, baseball, hockey, cricket, tennis, golf, etc, ESPN has the exciting coverage you want, and their app has the updates you need. You can personalize your ESPN app to alert you only to the teams (or leagues) you care about. If you want to hear how the home team is doing, but aren't particularly interested in the outcome of the Browns game, you can set your alerts accordingly. If you want up-to-the-minute NBA updates for your march madness bracket, you can have those too.
Download cost: Free
Best Gaming Apps
You might think the Apple Watch's screen is too tiny for gaming, but there are plenty of games that have been developed to perfectly suit this wearable venue. Here are three highly rated games of different genres supported by Apple Watch.
Tiny Armies
Tiny Armies is a strategy game, like chess or Scythe. You may have already developed an addiction to this game on an iPad or iPhone. On the watch, your opponent is an AI, you play as an entire army, and your objective is to overcome a series of challenges to conquer your enemies as a collective. Just like chess, you need to think five moves ahead, but unlike chess (for most people), Tiny Armies moves fast, so you better think fast!
Download cost: $0.99
Rules
Rules is an adorable puzzle game comprised of different layers of brainteasers and animated friends. This is a great game to wake up your brain and flex those memory muscles. Every day, you'll get a daily mini-game puzzle on top of the regular level-based gameplay. This game has tons of accolades in the app store, it's truly tried and true. With hundreds of levels to play through, the hours of unique gameplay are certainly worth the price.
Download Cost: $2.99
Star Duster
If you love the aesthetic or content of old arcade games or 90s video games, you'll love Star Duster. This game is super reminiscent of Space Invaders. Unlike the joy sticks of old arcade games, this game utilizes the digital crown of your Apple Watch. Consider yourself an intergalactic cleaning crew as you sail through space sweeping up the space junk. Play in different modes for different levels of difficulty.
Download Cost: $2.04
Best Device Care Apps
Watchsmith
Your wearable tech should match your aesthetic. No one wants their smartwatch to clash with their vibe, that's why there are so many styles of bands and cases available, but what about the watch face? Watchsmith will allow you to customize your watch face as you've never been able to before. Go beyond just minimalist or maximalist widget placement, you can literally design it to display different information depending on the hour.
Watchsmith will let you keep all your data — health, weather, stocks, schedule, even the placement of the stars — exactly where you want it. The app works with your iPhone to allow you to assign each slot on your watch face to a different task, even multiple tasks. To access all of its functions, however, there is a paid subscription.
Download Cost: Free
Phone Buddy Notifier
PB: Lost Phone Alert for Apple Watch is here to prevent you from losing your phone, tablet, or other devices. It uses Bluetooth to alert you if you're leaving the range of one of your devices. Not only will you get a push notification on your wrist, but the iPhone you were about to leave behind will also make a loud sound to get your attention.
What makes this app extra clever though, is that it switches off automatically when you're on your home wifi; it's designed to prevent you from losing your device in public, not prevent you from leaving it on your own dresser. Apple's Find My tool is great and can be a real lifesaver if you do misplace your device, but PB Notifier can stop you from losing it in the first place. Download Cost: $4.99
Cloud Battery
With Cloud Battery, you can use your iCloud to check the battery status of all your connected Apple devices from your wrist. It's a battery management system that will let you know when you need to charge your devices in order to avoid getting caught with no power. The app gives you a watch widget to display the power level of other devices.
Download Cost: Free
Ready To Shop in the App Store?
If one of these apps could fill a functional hole in your life (or your home screen), get yourself to the app store! Make sure your Apple Watch is running the most recent WatchOS before you do to ensure the functionality and downloadability of all the apps above.
While you're at it, make sure you've updated your iPhone's iOS too, just because staying up to date is a good practice. Enjoy these third-party apps to help make your Apple Watch the best smartwatch for you.
Sources:
15 Very Cool Money Apps for the Apple Watch | Money
Best Apple Watch apps for fitness, music, weather and more | GQ